A cosmetic procedure that exfoliates and removes the outermost layer of a person's skin revealing younger skin underneath.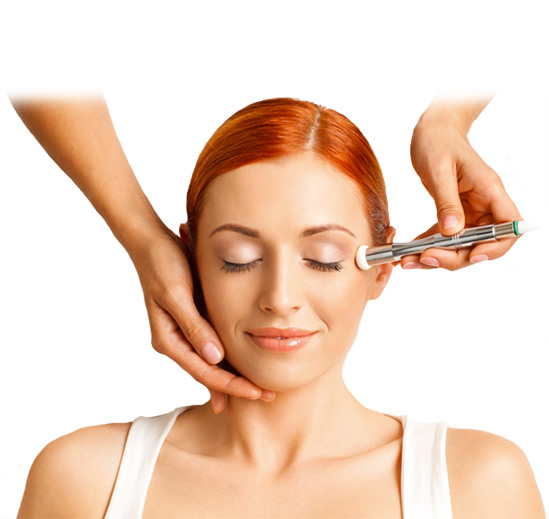 What is Microdermabrasion?
Microdermabrasion is a very popular and painless skin treatment that improves the overall look of your skin. We use a specialized machine resembling a sand blaster which shoots small crystals against your skin. Common crystals used in Microdermabrasion include aluminum oxide, zinc oxide, corundum, sodium chloride, sodium bicarbonate, and magnesium oxide.
The small abrasion causes the removal of dead skin (Known as the Stratum Corneum) allowing the new skin to show through. Microdermabrasion also initiates the production of new cells in the Basel (deepest) layer of the dermis. It reduces the look of sun-damaged skin and lightens scar appearance.
What can Microdermabrasion do for me?
Microdermabrasion can help people with oily skin, enlarged pores, clogged pores, fine lines, mild acne scars and uneven pigmentation. It will help with spots on the skin, tighten and resurface the skin. Microdermabrasion is a lighter procedure and cannot be used for heavily damaged skin.
Ideal Candidates
Microdermabrasion is intended for people with good health that have slight skin damage. Microdermabrasion can be used by men and women after the age of 12.
Benefits of Microdermabrasion
Microdermabrasion is a very safe and non-surgical cosmetic procedure
Can be done in an hour or less
Increases the natural collagen production in your skin
Uses non-allergenic crystals for the procedure
No recovery time and no medical supervision is needed
Treatment is safe for light and dark skin patients
Can be used as a preventative treatment for acne, and avoids future breakouts
During the procedure, our dermatologist will spray microcrystals through a handpiece to your dermis where you want the improvements to be. The micro-crystals will exfoliate your skin meanwhile the handpiece will suction out the dead skin that is left behind. For the best results, 5 to 12 procedures approximately every 4 months are recommended to get the most out of the Microdermabrasion procedure. The treatment usually lasts around 30 minutes.

We can see how the handpiece used will get rid of the outer layer of the skin and reveal the layer under which is newer and younger. The tool used will not penetrate deep into your skin but the crystals will gently remove the superficial skin. 
Microdermabrasion Before & After Photo Gallery
Before Using Microdermabrasion
Acne scarring was all over her cheeks and had uneven skin tone
Before Using Microdermabrasion
Sun damaged skin with uneven pigmentation
Before Using Microdermabrasion
Skin was swollen from acne scarring and had bumps
Frequently Asked Questions
It is important to know for how long you have had this problem and when it disappears if it leaves a residue. It is possible that you have an area where the blood vessels are simply dilated or a type of rosacea, or seborrheic dermatitis. But can also be that you have a pre-cancerous lesion, such as actinic keratosis. I believe that you will greatly benefit from visiting your dermatologist.
You are describing dilated vessels on your face. They may be the result of several things, including sun- damage, and inheritance. However, you may have Rosacea or other medical conditions such as Lupus. The treatment depends on the cause. Lasers can be useful in eliminating those lesions. Sometimes they can be treated with anti-inflammatory medications. If what you have is Rosacea there are environmental factors that can make it worse, such as alcohol, extreme weather conditions, and spicy foods.
Spider veins or telangiectasias are those tiny purples and red blood vessels found most commonly on the thighs or lower legs of women. They are hereditary and can form anywhere on the leg, from the top of your thigh to the ankle. They can appear raised with a bluish color and can become quite painful. Spider veins can be eliminated permanently through a simple office procedure called sclerotherapy.

During the procedure, a sclerosing solution is injected into the vein through a micro-needle. The tiny needles generally cause very little pain. The sclerosing solution causes the vein to blanch (turn white), then most disappear in two weeks. A typical treatment may last for 15 to 20 minutes and consist of 70-100 injections. In most cases, about 50-70% of the treated vessels will be gone for good. As far as taking time off for recovery it is not necessary, you can go to work after the procedure. Thank you for contacting us and coming to see us we can help you get rid of those veins you don't like. You will be happy wearing shorts again.