Botox and Dysport help maintain these areas free of wrinkles (1) Crows Feet (2) Frown Lines (3) Forehead Crease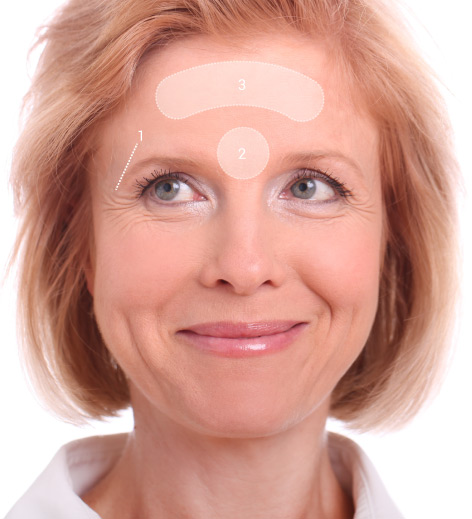 What is Botox® & Dysport®?
A cosmetic procedure where Botox® and Dysport® are injections that go into the skin to prevent facial wrinkles and folds to appear on the face. Botox and Dysport are made from onabotulinumtoxinA which relaxes muscles and prevents them from creating wrinkles. Botox and Dysport is a great way to stop lines from becoming a fixed feature in the face. They treat dynamic wrinkles that are caused when you move the muscles in your face.
What is the difference between Botox®, Dysport®, & Dermal fillers?
Dysport effects can be seen more quickly than the Botox effects. Where Botox may take 3 to 5 days to work, Dysport effects start 1 to 2 days after the initial treatment to start smoothing out unwanted facial lines. The full results for both can be seen 1 to 2 weeks after the initial procedure. Botox and Dysport differ from dermal fillers because they treat the muscle, unlike fillers which use collagen to plump up the skin and add volume.
Botox and Dysport prevent wrinkles and folds when the person's face is at rest or if the face is moving. Dermal fillers only work when the person's face is at rest and the lines reappear when the person does any facial expression. Also, dermal fillers work best for unwanted lines in the bottom half of the face whereas Botox and Dysport are best for the upper half of the face.
How Does Botox® & Dysport® Cosmetic Work?
Botox and Dysport injections are a non-surgical procedure in which small doses of the toxin Botulinum, a protein, are injected into the muscle in your face that you want to have fewer lines. This protein helps your muscles relax and stops them from contracting and if the muscle does not contract then it will not be able to crease the skin and cause wrinkles or folds.
This simple and painless procedure is performed by one of our board-certified dermatologists. It is a non-surgical treatment that is injected directly into overactive muscles in the face, this causes a block in nerve impulses in muscles.
By hindering the production of the neurotransmitter (the chemical which relays the signals) this causes the muscle to relax giving it a smoother appearance and greatly reducing the appearance of lines and wrinkles.
Botox can also be used for migraine headaches, as it appears to prevent pain signals from reaching nerve endings, as well as excessive sweating in the underarms hands, and feet by blocking the release of the chemical that stimulates the sweat glands in those areas.
Photo Gallery
Before Using Botox®
Her crow's feet stood out when she smiled
After Using Botox®
No crow's feet are visible even with her smiling.

Before Using Botox®
When frowning, wrinkles formed between the eyebrows
After Using Botox®
Completely smoothed skin between her eyelashes

Before Using Dysport®
Crow's feet were distinguishable when she smiled.
After Using Dysport®
Her lines were not perceived when she smiled and had a younger look

Before Using Dysport®
Frown Lines are made and seen across the forehead area
After Using Dysport®
Her skin between the eyelashes is even and has no signs of wrinkles
Before Using Botox®
Wrinkles stood out when frowning
After Using Botox®
There were no more Frown Line and no Forehead Creases
How long does it last and how often do I need treatment?
Botox and Dysport effects generally last from 4 to 6 months. Afterward, the lines and wrinkles gradually begin to reappear. Regularly, after 4 to 6 months if you see any lines reappearing then another dose of Botox might be needed to continue achieving the same results that you desire. After several times of using Botox, the effects tend to last longer, and less is needed.
How soon will I see the results?
Most of our patients begin seeing results 2 to 3 days after the treatment. The entire effect will be fully seen 1 to 2 weeks afterward.
Why Does Skin Age?

Aging skin is caused by many factors, the vertical lines between your eyebrows in particular are caused by muscles that contract and fold the skin when you concentrate, squint, or frown and create creases in the skin. Over time these creases may become more apparent even when your muscles are relaxed resembling 11s.
This is where Botox comes in handy. Botox is injected directly into the muscle contractions, halting any more muscle activity in the area between the eyebrows. When Botox or Dysport injections are used routinely they can improve the look between the brows. Making you look younger.
Dr. Susana L. Khouri applying Botox
Frequently Asked Questions
Yes, Botox helps in the prevention of wrinkles by limiting the movement of the muscle that creates wrinkles. So it can help delay the creation of wrinkles if used correctly.
No, your face will not feel numb and frozen. Botox does not affect the nerves in your face that cause feeling and sensation.
Possible side effects may include difficulty swallowing, dry mouth, discomfort or pain at the injection site, tiredness headache, neck pain, and eye problems such as blurred vision, drooping eyelids, and dry eyes.