Dr. Roger K. Khouri, MD, FACS
Board Certified in Family Medicine for 8 years in the U.S. but brings many more years of experience from practicing medicine in her native Cuba.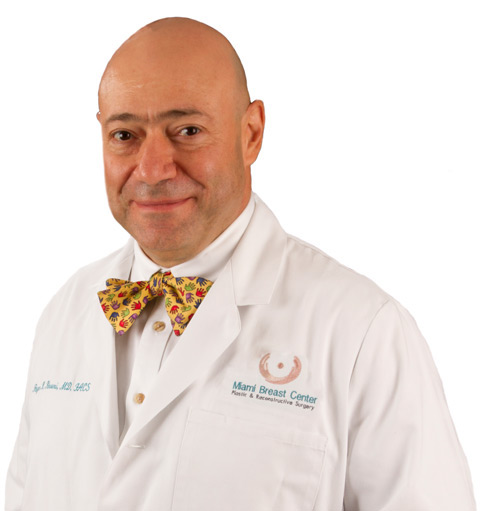 About Dr. Roger K. Khouri, MD, FACS
Roger K. Khouri, MD, FACS was born in Lebanon in 1957. Dr. Khouri is married to Dr. Susana Leal-Khouri a renowned Pathologist and Dermatologist and they have five children. Doctor Khouri is the founder of the Miami Breast Center. He is also the inventor of the external expander BRAVA. Dr. Khouri developed the breakthrough third option breast reconstruction procedure called BRAVA + AFT (autologous fat transfer).

Experience
Dr. Roger Khouri is a Plastic Surgeon with more than 25 years of experience with breast reconstruction. He is a pioneer in fat transfer to the breast and in reconstructive microsurgery. He is the innovator and the recognized World expert in natural, no implant, breast augmentation and post-mastectomy, lumpectomy and prophylactic breast reconstruction. Dr. Khouri is a Board Certified Plastic Surgeon trained in General Surgery at UNC, in Plastic Surgery at Brown University, in Reconstructive Microsurgery at NYU and in Hand Surgery at Harvard. Dr. Khouri Was Professor of Plastic Surgery at Washington University before moving to Miami.
 Training, Certifications, & Licensure
1981
American University of Beirut; Beirut, Lebanon
Medical Doctor (Graduated top 10% of class)
1981
Burroughs-Wellcome Research Labs
Fellow in Molecular Biology
1982
New York State Medical Licensure Certification
1985
University of North Carolina Memorial Hospital
Resident in General Surgery
1987
Brown University Affiliated Hospitals
Resident in Plastic Surgery
1988
New York University and Bellevue Hospitals
Fellow in Microvascular Surgery
1989
Harvard Medical School and Beth Israel Hospital,
Fellow in Hand Surgery/Microsurgery
1991
Certified by the American Board of Plastic Surgery
1992
Certificate of added qualifications in Hand Surgery
1995
Florida State Medical Licensure Certification
2001
Re-certified in Hand Surgery
2008
Georgia State Medical Licensure Certification
2011
Re-Certified in Hand Surgery
 Medical & Academic Societies
| | |
| --- | --- |
| Active Member | American Association for Hand Surgery |
| Fellow | American College of Surgeons |
| Founding Member | American Society for Peripheral Nerve |
| Active Member | American Society for Reconstructive Microsurgery |
| Active Member | American Society for Surgery of the Hand |
| Active Member | American Society of Plastic Surgeons |
| Active Member | AUB Surgical Society |
| Founding Member | Cell Transplant Society |
| Founding Member | Converse Society |
| Corresponding Member | European Association of Plastic Surgeons (EURAPS) |
| Active Member | Greater Miami Society of Plastic and Reconstructive Surgeons |
| Founding Board Member | International Society for Tissue Engineers |
| Senior Member | Plastic Surgery Research Council |
| Corresponding Member | Societe Francaise de Chirurgie de la Main (G.E.M.) |
| Corresponding Member | S.F.C.P.R.E. (French Society of Plastic Surgeons) |
| Senior Member | Society of University Surgeons |
| Corresponding Member | Turkish Society of Plastic Surgeons |
| Active Member | Womack Society |
| Founding Member | World Society for Reconstructive Microsurgery |
Awards & Hospital Appointments
| | |
| --- | --- |
| 1989-1996 | Appointed at Barnes-Jewish Hospital and St. Louis Children's Hospital[br] St. Louis, MO |
| 1996-Present | Hospital Appointments at Baptist Health, Doctors Hospital, South Miami Hospital, Mercy Hospital, Kendall Regional Hospital, Hialeah Hospital, Palmetto General Hospital, Coral Gables Hospital |
| 1999 | Best Scientific Paper Award for "Breast Enlargement with a Bra-like Soft Tissue Expansion Device"; American Society for Aesthetic Plastic Surgery Annual Meeting; Dallas |
| 2001 | Godina Lecture Award of the American Society for Reconstructive Microsurgery: "Reconstruction: the Journey" ; San Diego |
| 2009 | ESPRAS Great Debate Winner, "Breast Augmentation: Implants vs. Fat Grafts"; Greece |
| 2010 | 2010 EURAPS Best Scientific Paper: "Tissue Engineering a Breast Mound by External Expansion and Autologous Fat Grafting, Manchester |