Areas of the Face where Fillers are used (1) Chin Wrinkles (2) Cheeks (3) Lips (4) Vertical Lip Lines (5) Marionette Lines (6) Mouth Lines Corner (7) Smile Lines (8) Pre-Jowl (9) Upper Eyelashes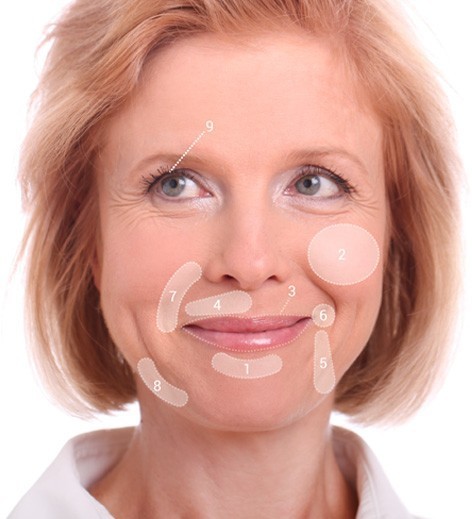 What are Dermal and Wrinkle Fillers?
As we age, you might start noticing wrinkles on your forehead, around your eyes (resembling what looks like crow's feet) between our eyebrows, around the nose and mouth. Your skin begins to lose it's elasticity and volume. To prevent these dramatic changes there are treatments known as dermal fillers. The dermal filler treatment involves injectable gels that are a non-surgical solution to newly formed lines and wrinkles. These fillers help restore collagen to the skin and may last up to a year. The following products are considered "fillers" and are used to smooth out facial lines.
Dermal & Wrinkle Filler Options Compared
 Dermal Filler
 Treatment Areas
Duration
Benefits
Marionette Lines, Mouth Corners Lines, Smile Lines, Vertical Lip Lines
Lasting up to 1 Year
Most patients need one treatment
to achieve optimal wrinkle smoothing. Only non-surgical Hyaluronic Acid filler FDA-approved to instantly smooth moderate to severe wrinkles. Contains Lidocaine for improved comfort during treatment.
Cheeks
Lasting up to 2 Years
The first and only injectable gel that is FDA-approved to instantly correct age-related volume loss in the cheek area for people over 21. It adds volume, creating contour and lift for up to two years with optimal treatment.
Lips, Lipstick Lines, Marionette Lines, Mouth Corner Lines, Smile Lines
Lasting up to 6 Months
Provides instant and long lasting wrinkle correction with built in Lidocaine Numbing. With Restylane you will get a natural looking result that does not affect facial expressions.
Chin Wrinkles, Marionette Lines, Mouth Corner Lines, Pre-Jowl, Smile Lines
Last 1 Year or more
It is the only wrinkle filler that immediately replenishes lost volume and stimulates the production of your own natural collagen for long-lasting results.
Chin Wrinkles, Marionette Lines, Smile Lines
Can last more than 2 Years
Facial injectable that gives results over time, replacing lost collagen. It can gradually give you a more youthful looking appearance without making you look like you've had work done. 3 Sessions over a few months.
Mouth Corner Lines, Smile Lines, Lip augmentation
Last for about 7-8 Months
A better choice for more severe facial wrinkles that benefit from a deeper injection into the skin.
Frequently Asked Questions