Restylane® can be used in the (1) Lips (2) Vertical Lip Lines (3) Marionette Lines (4) Mouth Corner Lines (5) Smile Lines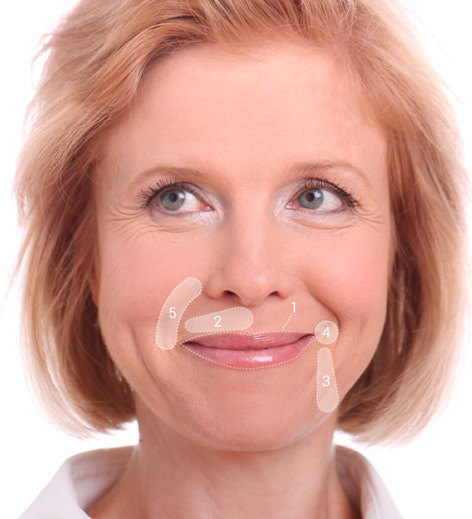 What is Restylane®?
Restylane® is clear gel of Hyaluronic acid that acts as the body's natural produced hyaluronic acid. It adds volume and richness to the skin to correct moderate to more severe facial wrinkles and folds. It is designed to get rid of unwanted wrinkles, contour and revitalize the skin
Advantages of Using Restylane®
Restylane® users will see instant results in the initial treatment.
When used to enhance the lips it will add volume and more definition to the lips.
Restylane® has been safely used in hundreds of treatments in our center.
Restylane® has natural ingredients that are non-animal derived so there is no skin test required to take it
Contains a local anesthetic, Lidocaine to reduce the pain associated with the injection in the dermis.
Duration of Restylane®
The duration of the filler can last up to 6 months.
Restylane Before & After Photo Gallery
Before Using Restylane®
Smile and Mouth Corner Lines are very pronounced
After Using Restylane®
Smile Line Folds are Mouth Corner Lines are significantly reduced
Before Using Restylane®
Very deep wrinkles surrounding the Mouth and Nose and Vertical Lip Lines
After Using Restylane®
Substantial Visible Improvements in the wrinkles surrounding the Nose, Mouth and Vertical Lip Lines are smoothed out
Before Using Restylane®
Noticeable Wrinkles around Mouth and Smile Lines
After Using Restylane®
Removed the Wrinkles for a more natural and smoother look
Before Using Restylane®
Defined wrinkles in the mouth Corner and Smile Lines have folds
After Using Restylane®
Face is more even and almost no folds or wrinkles
Frequently Asked Questions