Radiesse ® can be used to treat the areas of the skin that include (1) Chin Wrinkles (2) Marionette Lines (3) Mouth Corner Lines (4) Pre-Jowl (5) Smile Lines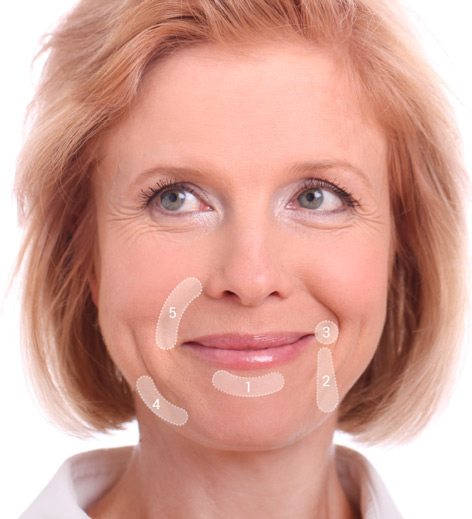 What is Radiesse®?
Radiesse® is an injectable dermal filler that restores natural-looking facial volume to smooth out signs of aging such as wrinkles and folds. Radiesse® does not only smooth out unwanted facial imperfections but it stimulates your body to produce natural collagen for better and longer lasting results. Radiesse® is made from tiny calcium-based microspheres that are in a water-based gel. The calcium microspheres are natural minerals found in your skin so it only leaves behind the natural collagen.
Advantages of Using Radiesse®
Radiesse® works immediately so the results are instant.
Radiesse® provides structure under the skin, and most importantly it stimulates the production of your own natural collagen to continue growing. Radiesse® makes the production of natural collagen continue in your skin for several months. The effects are longer lasting and extend beyond the initial effect of the first treatment.
FDA approved to mix with lidocaine, a local anesthetic to reduce injection related pain.
Not derived from animals therefore no skin testing is required before using Radiesse®.
Radiesse® has safely been safely used for several years on hundreds of our patients in our center.
Duration of Radiesse®
The Radiesse® results can last up to 1 year with the best conditions
Radiesse Before & After Photo Gallery
Before Using Radiesse®
Pre-Jowl Wrinkles and Chin Wrinkles were pronounced
After Using Radiesse®
Pre-Jowl was smoothed out and Chin Wrinkles Diminished
Before Using Radiesse®
Visible Smile Line wrinkles and Pre-Jowl
After Using Radiesse®
Smile Line Wrinkle and Pre-Jowl completely gone
Before Using Radiesse®
Mouth Corner Lines very Evident and deep folds in the smile lines
After Using Radiesse®
Smile Line completely gone and Mouth corner are entirely smoothed
Before Using Radiesse®
Smile lines are very noticeable and mouth corners were wrinkled
After Using Radiesse®
Smile Line wrinkle reduced significantly
Frequently Asked Questions