Juvederm XC® treatment areas include the (1) Marionette Lines (2) Mouth Corner Lines (3) Smile Lines (4) Vertical Lip Lines.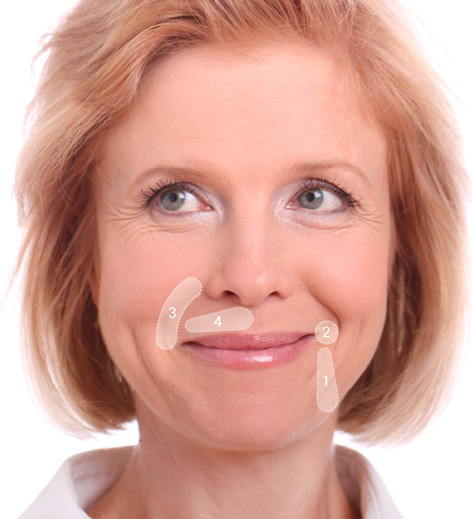 What is Juvederm®?
Juvederm® is a colorless injectable gel and the only FDA approved non-surgical Hyaluronic Acid (HA) which immediately smoothes moderate to severe wrinkles. The purpose of the Hyaluronic Acid is to give your skin nutrients and also hydrates it by holding in the natural water in your skin. It is manufactured with HYLACROSS technology, which creates a smooth-consistency gel that flows easily into the skin and provides a smooth, natural look and feel. Juvederm® also contains Lidocaine to reduce the pain that deals with the Injections into the dermis. Juvederm® adds volume to the skin areas where collagen and natural occurring Hyaluronic Acid decreases over time.
Advantages of Using Juvederm XC®
Most patients need one treatment to achieve the best results of wrinkle smoothing.
Contains Lidocaine a local Anesthetic that in a small quantity is fused with the injectable gel
Juvederm has been securely and successfully administered at our center to thousands of patients safely and it leaves a nice natural feel to the skin including the lips
There is also a solution to reverse the effects if too much was given to get rid of any excess
Juvederm® uses Hylacross™ technology to deliver a high concentration of Hyaluronic Acid
Duration of Juvederm XC®
With an ideal treatment the improvement usually lasts up to 1 year.
Juvederm Before & After Photo Gallery
Before Using Juvederm®
Deep folds in Smile Lines and Marionette Lines
After Using Juvederm®
Smile Line Folds are less noticeable and Marionette Lines are gone
After Using Juvederm®
Less Mouth Corner Wrinkles and Smile Lines and Vertical Lip Lines are smoothed out
Before Using Juvederm®
Her Marionette Lines and Smile Lines were Noticeable
After Using Juvederm®
Marionette Lines are gone and Smile Lines are not Visible
Frequently Asked Questions