A complete skin solution for our patients, offering a wide range of uses in skin rejuvenation, hair removal, and numerous skin conditions.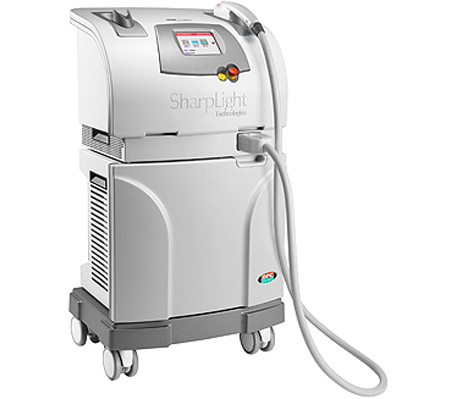 Khouri Dermatology proudly introduces the Sharplight system to our city of Miami! Sharplight is an innovative and advanced technology that presents a complete skin solution for our patients; offering a wide range of uses in skin rejuvenation, hair removal and numerous skin conditions. This advanced machine utilizes three powerful technologies to offer targeted treatments for the wellbeing of each patient. The Sharplight Miami system works with many hand pieces, each designed to shorten treatment time and boost results.

The Sharplight system utilizes three different technologies for a comprehensive and advanced aesthetic solution: laser, infrared (IR) and intense pulse light with dynamic pulse control (IPL-DPC).
Why should I choose Sharplight treatments?
The expert blend of technologies in the Sharplight system offers a complete skin solution for patients looking to improve their skin, without going under the knife. The Sharplight system provides numerous hand pieces for accurate and precise treatments for all skin tones and skin types. The advanced use of each laser, IR and IPL-DPC technology provide optimal results, along with a safe and comfortable treatment.
Laser Technology
Laser technology is one of its most popular and widely used treatment options. It is a non-intrusive cosmetic treatment that offers a successful alternative to cosmetic surgery. It is useful for a wide range of treatments, from skin resurfacing to tattoo removal. The Miami Sharplight system uses specially designed handpieces for a precise skin application and includes added security features for patient's comfort and wellbeing. The laser uses the Er:YAG, which applies very precise skin treatments and minimizes downtime. Also, it uses the Nd:PYAG laser, which is ideal for non surgical cosmetic treatments such as tattoo removal, skin rejuvenation, wrinkle and vein treatments. The Sharplight system's laser technology offer unparalleled precision for skin treatments.
Infrared Technology
Infrared (IR) light is an essential technology in cosmetic skin treatments. The Sharplight system provides a safe, comfortable and nonsurgical IR option for facial treatments. To provide extremely effective and precise treatment, Sharplight uses various hand pieces.
Light Pulsed Technology
The Miami Sharplight system also utilizes the latest light based technology known as dynamic pulse control (DPC). DPC is a pulse based IPL (intense pulsed light) that can be personalized for each patient for the best results. The light pulses can be configured for different sized areas and tailored for each patient. The Sharplight system also use the Thermo Electric Contact Cooling (TEC) method, which assures skin safety and comfort. This method maintains a cool skin temperature, even during continuous treatment.
What does Sharplight treat?
The Sharplight system uses innovative technology and industry leading concepts that blend multiple technologies in a single machine. This advanced system allows Miami Dermatology Center to expand the range of services that we offer and better serve each patient's needs.
Hair Removal
Hair reduction treatments have quickly become the third most popular non-intrusive cosmetic treatment in the US today! Unwanted hair removal treatments are a relatively simple way to enhance your self-esteem, allow you to feel better about yourself and improve your appearance. The Sharplight system introduces the latest hair reduction technology DPC (Dynamic Pulse Control). This highly advanced technology is only used by skilled and trained professionals to provide excellent and superior results for a wide range of skin tones, hair colors and hair types.
Skin Rejuvenation
The Sharplight system's unique blend of technologies offer highly efficient skin treatments. Laser technology is primarily used in skin rejuvenation, since it eliminates wrinkles and different types of scars. Depending on the individual needs of the patient, our dermatologists can determine if other technologies will be used in conjunction with the laser treatment. In some cases, IPL is used to remove skin pigmentation, caused by excessive sun exposure, and stimulate the renewal of collagen cells for tighter and more youthful skin. Also, infrared technology can help trigger collagen production for a radiant skin complexion.
Tattoo Removal
Laser technology is ideal in removing tattoos. The Sharplight system utilizes the combination of light based and laser technology to break apart the tattoo ink and effectively remove the tattoo.
Acne
Acne is a very common skin disorder. Most people will suffer from some sort of acne during their life. Mild cases of acne may only require a meticulous hygiene routine. While severe cases of acne may result in lifetime scars and intense treatment. The Sharplight system targets all types of acne: white heads, black heads, papules, nodules, seborrhea and pustules. The IPL technology is used to treat mild to moderate inflammatory acne.
Frequently Asked Questions
Our board-certified dermatologists will assess whether laser treatment is the best option for your skin.
The Sharplight system's many hand pieces fit all skin types and work on most areas of the body.
The Sharplight system's IPL-DPC technology is effective for all skin types. Also, it allows a custom treatment according to the patient's skin and hair type, as well as, the area of the body to be treated. For example, a smooth pulse is perfect for those with dark skin and hair, while a long pulse is best for intermediate skin types and medium brown hair, on the other hand, a high pulse is used for light skin and light fine hair. The IPL-DPC adapts to each patient for an effective, safe and comfortable treatment.