Treatment to minimize the facial wrinkles and to smooth out rough, uneven skin and other imperfections. Using a short concentrated beam of light the procedure will eliminate unhealthy skin and restore younger skin.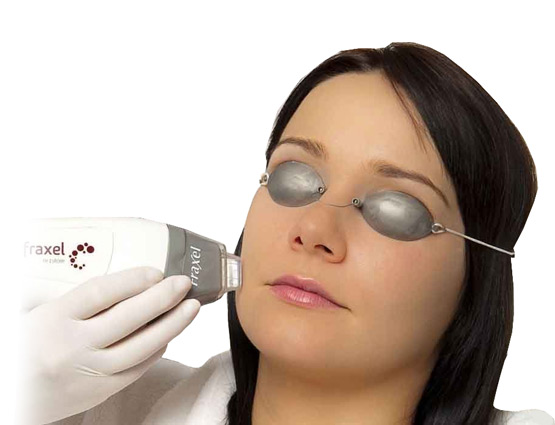 What is Fraxel Laser Resurfacing?
Fraxel Laser Resurfacing is a laser treatment that uses fractional laser technology to restore your skin to its younger, smoother, and fresher feel. It has been approved by the FDA to be able to softly and effectively resurface your skin. It visibly improves the texture and tone of your skin and erases unwanted brown spots, acne scars, surgical scars, sun-damaged-skin, and stretch marks. In your youth, your skin creates collagen, a form of protein that maintains your skin's youthfulness and tightness. As you age and get more sun exposure, the collagen begins to breakdown faster than your body can reproduce them. Consequently your skin loses its tightness and begins to form wrinkles, lines and spots.
How Does it Work?
Fraxel Laser Resurfacing stimulates your skin to produce a smoother, younger, and healthier skin to replace damaged and aged skin. It achieves this by shooting painless superficial wounds that stimulates your skin to produce and rebuild collagen. Rejuvenating your skin from the inside out. The amount of sessions needed range from 1 to 6 depending on how many our doctors recommend. Every session is usually 4 to 6 weeks apart.
What issues does a Fraxel treatment correct?
Fraxel corrects acne scars, surgical scars, accidental scars, stretch marks, large pores, wrinkles, age-spots, sun-spots, melasma, discoloration, uneven pigmentation, fine lines around the eyes, and irregular skin texture. Fraxel also treats Actinic Keratosis, a pre-cancerous skin condition.
Laser Resurfacing Gallery
Frequently Asked Questions