Board Certified in Family Medicine for 8 years in the U.S. but brings many more years of experience from practicing medicine in her native Cuba.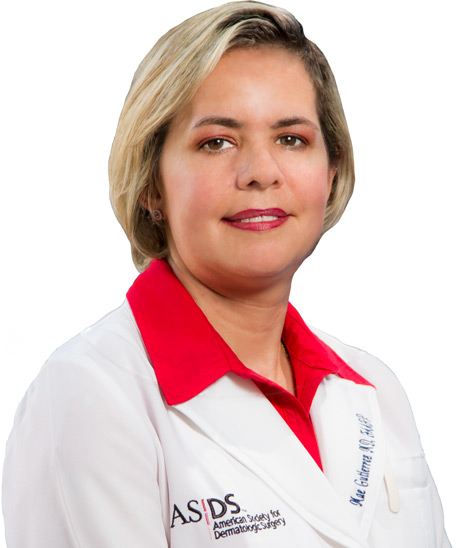 About Dr.Mae Gutierrez, MD, FAAFP
My name is Mae Gutierrez-Cuenca. I was born on a warm sunny day in August, in the city of Santa Clara, located in the central part of Cuba. I lived there for six years and then moved to Havana, where I lived the rest of my years before coming to the USA. I attended medical school there, obtained my Medical Doctor Diploma in 1991with high academic honors, completed the ObGyn residency, and practiced as an attending physician for five years. Upon my arrival to the USA in 1999, I started working in this practice, "Dermatology and Plastic Surgery", as a Medical Assistant while taking the required examinations to validate my Medical Diploma in this country.

Then I was fortunate to be chosen in the Family Medicine Program at Saint Mary of Nazareth Hospital in the city of Chicago, where I spent three years until completing the residency program with high academic standings in 2007. Upon my return to South Florida, I joined Dr. Khouri's practice once again, this time as a fully credited Medical Doctor. During the past few years I have been part of a dynamic growth of the "Dermatology and Plastic Surgery" team and patients. Personally I am very satisfied to have come back to serve this great community and look forward on giving my very best with passion and professionalism while practicing the medical career.