Sculptra® treatment areas are (1) Chin wrinkles (2) Marionette Lines (3) Smile Lines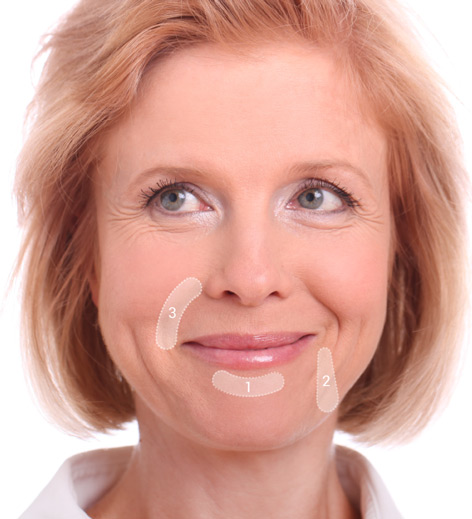 Sculptra® is a new type of injectable gel made from Poly-L-Lactic Acid, which serves the purpose of replacing lost collagen. Poly-L-Lactic acid is safe and is naturally absorbed by the body. Sculptra is injected into the skin for restoration and/or correction of facial fat loss (lipoatrophy). It will correct shallow to deep facial wrinkles and folds by stimulating the reproduction of lost collagen. Results are not immediate. Sculptra® provides a gradual increase in skin thickness. In a clinical study, the effects lasted for up to 2 years after the first treatment session in most patients.
Advantages of Using Sculptra®
Stimulates the growth of the body's own natural collagen.
Does not contain any animal or bacterial components which makes it very safe to use.
There is no need to take allergy testing prior to the treatment.
Results are gradual so it will look more natural and won't seem like you've had work done.
Duration of Sculptra®
Sculptra® is long-lasting and can last up to 2 years or more.
Sculptra Before & After Photo Gallery
Before Using Sculptra®
Smile and mouth corner lines stand out
After Using Sculptra®
Smile Line was smoothed out significantly and mouth corner lines are barely visible
Before Using Sculptra®
Smile lines have deep folds and mouth Corner is marked
After Using Sculptra®
Smile Line Folds are Mouth Corner Lines are significantly reduced
Before Using Sculptra®
Smile Lines have wrinkles and mouth corners lines are apparent
After Using Sculptra®
There is a clear decrease in the wrinkles surrounding the mouth
Before Using Sculptra®
Cheeks were sagging and caused Marionette Lines
After Using Sculptra®
Cheeks were lifted and no longer sagging, Marionette line was significantly reduced
Frequently Asked Questions