Correct a "double-chin" with a new injectable "fat-melting" alternative allowing our patients to permanently reduce the size of their submental area.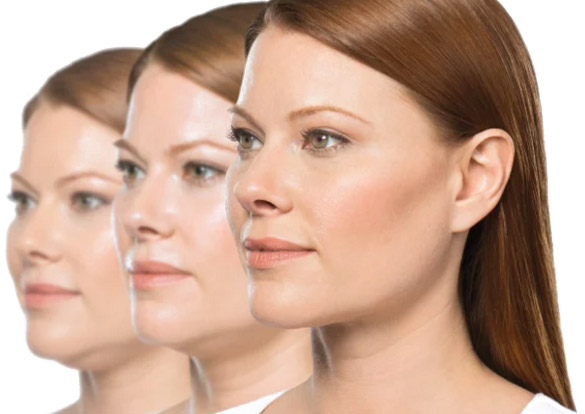 Kybella Double-Chin Treatment in Miami
Do you have some extra fullness under your chin or as some call it, "a double chin? Maybe its drawing unwanted attention or adding years to your appearance. One might think that the only option is to go through painful and costly surgery or liposuction. What if we tell you that there's an alternative? Kybella is a new injectable "fat-melting" medication made of deoxycholic acid, the main active ingredient, which allows our patients to permanently reduce the size of their submental area to give the appearance you're looking for.
How Kybella Works
The deoxycholic acid found in Kybella is a naturally presented molecule in the body that supports the process of not only breaking down, but also destroying these stubborn fat cells.
As these cells are released, it's then metabolized throughout the rest of the body and once destroyed, it can no longer store or accumulate fat, meaning, permanent results. 
Treatment Process
Everyone is different in the way their fat is divided up in our body. Our highly trained dermatologists will diagnose how much Kybella is needed and mark the area to target the submental fats between the jaw and the thyroid using a medical marker. Once our doctors have modified their points, the Kybella medication is injected multiple times under the chin. Each session will last up to 15 to 20 minutes depending on how many injections are needed to fully cover the amount of fat under the chin. For one to fully benefit from the Kybella treatment, you may need to receive up to six treatments with at least one month in between sessions.
1. Our Dermatologists will assess your condition and determine how many treatment sessions are needed and optimal locations for injection.
2. Kybella medication is then injected into the marked areas. This may take up to 15-20 minutes depending on amount of injections.
3. The Kybella begins to effect the fat cells, thus tearing and releasing the fat.
4. With each treatment session you'll begin to notice less and less fat under your chin.
Is Kybella Safe?
The Kybella (deoxycholic acid) injection has been an FDA approved medication since April 2015. As always, it's best to let your healthcare provider know what prescription medication you are currently taking or medical conditions you have before starting treatment with Kybella.
Kybella Before and After Photos
Before Kybella Treatment
After Kybella Treatment
Before Kybella Treatment
After Kybella Treatment
Before Kybella Treatment
After Kybella Treatment
Kybella Testimonials
Jason, 36
Andy, 46
Adra, 36
Frequently Asked Questions
Kybella may have some side effects on the treated area which include bruising, pain, numbness, redness, trouble swallowing, and nerve injury in the jaw area which may cause having an uneven smile or muscular weakness in the facial area. According to clinical studies, some of these side effects are treatable and can be resolved after several days or weeks.
According to the FDA, "treatment can only be administered by a licensed physician or healthcare professional."
The ideal candidate would be an adult over the age of 18 that wants to correct the fullness of one's facial look under the chin area without the need for surgery. But as always, it's recommended that one consults with their doctor before deciding to start treatment with Kybella.